Oil Sands Mining & Upgrading
Canadian Natural's zero decline oil sands mining and upgrading assets form the basis of the Company's portfolio of long life low decline production. These assets include a surface oil sands mine and bitumen extraction plant, complemented by on-site bitumen upgrading, ultimately producing high quality SCO. Canadian Natural holds extensive leases containing a massive resource base, with the mine and plant facilities expected to produce for decades to come without the production declines normally associated with conventional crude oil production.
Horizon
The Horizon Oil Sands include a surface oil sands mining and bitumen extraction plant, complemented by on-site bitumen upgrading with associated infrastructure to produce high quality SCO. In late 2017, the Phase 3 expansion was completed at Horizon, the final step in the Company's transition to a long life low decline asset base. At Canadian Natural's Horizon operations, there are opportunities to increase reliability and enhance capacity from approximately 250,000 bbl/d of SCO.
Athabasca Oil Sands Project (AOSP)
Canadian Natural's oil sands mining portfolio includes its 70% operated working interest in the two AOSP mines and 70% non-operated interest in the Scotford Upgrader, located north of Edmonton. The two mines produce diluted bitumen via a paraffinic froth treatment process, which is then shipped via the Corridor pipeline to the Scotford Upgrader where it is upgraded via LC Fining technology to SCO. As a result of optimization projects, process improvements, and enhanced reliability, Canadian Natural has increased gross production capacity at AOSP and the Scotford Upgrader by 20,000 bbl/d to approximately 320,000 bbl/d in Q3/20. This additional capacity at AOSP provides Canadian Natural with increased margins and flexibility, maximizing the value of the Company's Oil Sands Mining and Upgrading assets.
In addition to the AOSP assets, the Company also owns a 70% interest in the Quest Carbon Capture & Storage facility near Scotford, further demonstrating the Company's commitment to environmental leadership.
In Pit Extraction Process
The IPEP project targets to replace the traditional bitumen extraction process by processing the bitumen right at the mine face. The targeted extraction facilities are modular components that can be moved with the mine face. Canadian Natural is confident in the results from the initial testing phase of the pilot, which shows excellent recovery rates and evidence of stackable tailings. This project, if successful, has the potential to reduce mining costs by $1.00-$2.00 per barrel, reduce greenhouse gas emissions by approximately 40% from the mine, and eliminate the need for tailings ponds.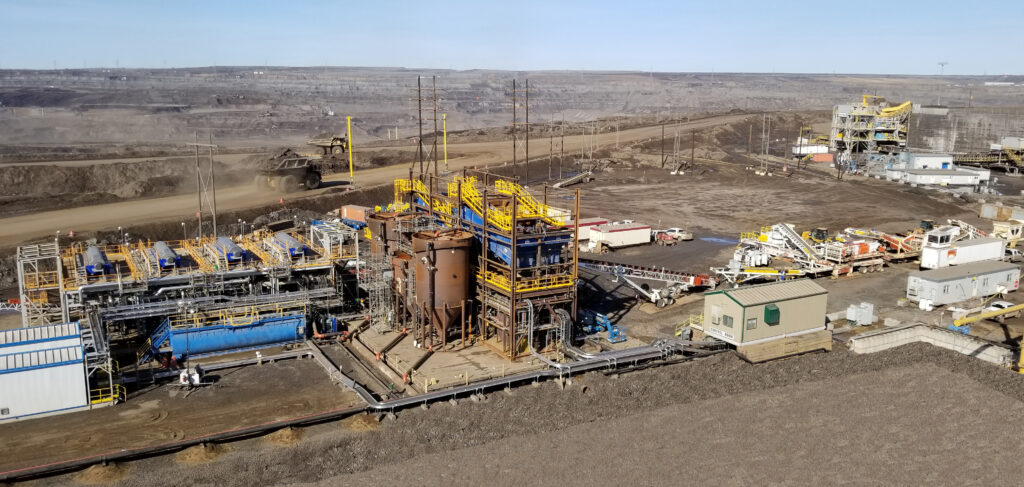 Horizon Oil Sands North Pit Extension (NPE) Project
Canadian Natural is proposing a northeast mine pit extension (NPE Project) of the previously approved North Mine Pit at the Horizon Oil Sands Processing Plant and Mine (Horizon). The extension will be immediately adjacent and east of the existing approved North Pit, west of the Athabasca River and is within the Alberta Energy Regulator's Approved Project Area for Horizon.
The NPE Project is required to sustain approved production rate for Horizon that includes proposed extensions of approved and new overburden storage areas. The mine extension and the additional area required for overburden storage represents an increase in disturbance area of approximately 7% and 11%, respectively. The proposed extension will be actively mined for approximately seven years with all ore continuing to be processed at the existing Horizon Central Processing Facility. Accordingly, an increase in water withdrawal from the Athabasca River is not required for this Project. The extension would be a continuation of the mine sequence, additional workforce would not be required and would not result in an increase in population, housing or camp requirements, local or regional traffic, and would not impact local or regional infrastructure or community services.
The area associated with the North Pit Extension was not previously included in the Horizon 2002 Environmental Impact Assessment. As a result, Canadian Natural is preparing an Environmental Impact Assessment for the proposed Project with a focus on the potential incremental impacts that may result from the extension. The Environmental Impact Assessment will assess the potential impacts of the project on surface water, aquatic resources, groundwater, air, soil, wildlife, vegetation, biodiversity, historical resources, resource use and traditional land use, and will outline Canadian Natural's proposed mitigation measures, as required. Baseline studies have been initiated and will continue through 2017.
Canadian Natural will be seeking regulatory approvals by amending the current Horizon approvals under the Environmental Protection and Enhancement Act, Water Act, Public Lands Act and Oil Sands Conservation Act through an Integrated Application. Existing environmental management and monitoring programs will be expanded to accommodate the development of the proposed Project.
The NPE Project is expected to include the following changes to the Horizon Mine:
Extension of the approved north mine pit to include the NPE Project area (1,346 ha);
Additional overburden storage areas (2,102 ha); and
Updated closure and reclamation plans.
Details regarding the project can be viewed in the following documents:
Public Notice for Proposed Terms of Reference
Horizon North Pit Extension Project Fact Sheet
Horizon North Pit Extension Project – Plain Language Project Package
Proposed Terms of Reference Environmental Impact Assessment Report
For further information on the project or associated project information, please contact Canadian Natural Resources Limited by North Pit Extension email and attention to either: Mrs. Anita Sartori (Manager, Projects & Approvals, Development Operations).
For media inquiries, please email: Investor Relations.
Or contact us by mail:
Canadian Natural Resources Limited
Suite 2100, 855 – 2 Street S.W.
Calgary, AB T2P 4J8
Canada