Water
Managing Water Resources
Canadian Natural's water management strategies focus on managing water use effectively and efficiently, while protecting water sources. They include:
reducing fresh water use by maximizing produced water recycling and saline water use (saline water refers to non-potable water, not suitable for drinking or agricultural use without treatment);
applying technology and increasing efficiencies to conserve fresh water use; and
avoiding effects to water sources by following industry leading operating practices and regulations, and minimizing water use, fresh water withdrawals and produced water disposal where possible.
Source water for oil and natural gas operations in Western Canada typically involves a combination of recycled produced water, saline and non-saline (fresh) water. Saline water is defined in Alberta as having greater than 4,000 mg/L total dissolved solids (TDS) and is not suitable for drinking or agricultural use without treatment.
Fresh water resources are effectively managed by provincial regulators to ensure there are no significant regional effects on water. Canadian crude oil and natural gas are produced under some of the highest standards in the world, including strict water use regulations for fresh water withdrawals, waste water disposal and hydraulic fracturing.
Reducing Fresh Water Use and Protecting Water Quality
We maintain fresh water use below our annual regulatory allocation limits across our operations.
To reduce fresh water use, we leverage technology to maintain high recycle rates of produced water and use saline water (non-potable) for steam generation. Through a water management sharing agreement with other oil sands operators, cumulative water withdrawals are managed to ensure the ecology of the Athabasca River is protected.
Water returned to the environment is tested to ensure the required water quality objectives are met prior to release, complying with all provincial and federal regulations pertaining to the discharge of water and surface water runoff. Water released includes clean surface water pumped from pads, water treated as part of groundwater remediation systems and surface water runoff.
Our International operations operate under the same management strategies as our North American operations, meeting stringent operating standards and local regulatory requirements to ensure asset integrity and marine environment protection. Our offshore operating practices limit environmental impact through the use of water-based, drilling muds whenever possible and the reduction of produced water volumes.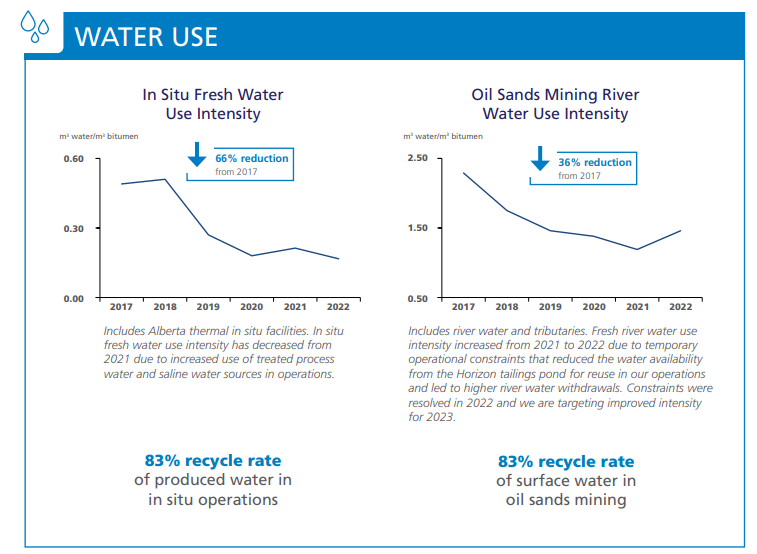 Case Studies
Hydraulic Fracturing
Hydraulic fracturing is a proven technology used safely for more than 65 years in Western Canada, under strong regulations and industry developed and accepted practices. We follow regulatory requirements for subsurface integrity, ensuring wellbore pressure integrity at all times.
We also participate in and follow Industry Recommended Practices (IRP) that complement regulations and are designed to improve water management, wellbore construction and reporting requirements including water and fluids for all hydraulic fracturing projects in western Canada. Our approach includes developing, reviewing and assessing controls during hydraulic fracturing operations, including careful planning, monitoring and measures that minimize risks.
As an industry, we publicly disclose our water use and additives (and their concentration) used in hydraulic fracturing fluids on the FracFocus website. We continue to develop, implement and improve practices to reduce water volumes (for example through recycling or alternative water sources) and minimize chemical use.
To learn more about hydraulic fracturing and industry operating practices, visit the Hydraulic Fracturing page on the Canadian Association of Petroleum Producers (CAPP) website, which includes a video on the process.
Tailings Management
Canadian Natural's tailings management programs aim to reduce the size and need for tailings ponds, and increase the speed with which they can be reclaimed. Our comprehensive land use planning considers the end of mine life so that we can manage our environmental closure programs and obligations, and advance reclamation as efficiently as possible.
We have invested almost $3.9 billion in tailings research, technologies and project construction. Our tailings management technologies are the result of extensive research that can be applied on a commercial scale. This work exemplifies our approach to research and development, taking lab concepts through the pilot stage and on to commercialization.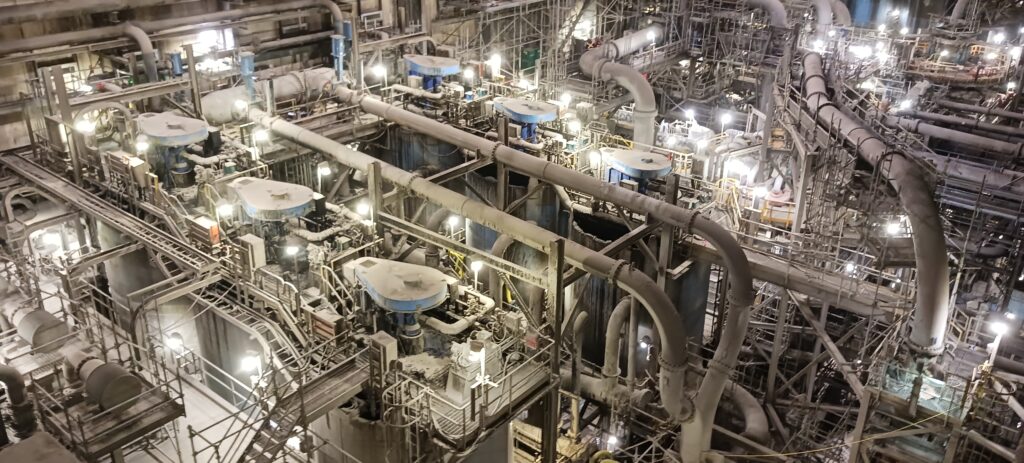 What Are Tailings?
Tailings are a mixture of water, sand and clay found naturally in oil sands that remain following the mining extraction process. Tailings are transported by pipeline and deposited into ponds, where the majority of the solids – mostly sand – settle to the bottom. The remaining fluid (water and clay) is called Fluid Tailings (FT).
As the solids in the FT begin to settle, the FT densifies, turning into a mixture called Mature Fine Tailings (MFT). Some of the MFT remain in tailings ponds, trapping water and reducing the amount of water available for recycling. Find out more about oil sands tailings from start to finish in this video.
Case Studies