Land
Proactive Land Management
Canadian Natural develops every project with a vision and plan to proactively manage impact on the land. We are committed to returning all our worksites (processing facilities, well sites, pipelines, mines, roads, etc.) to a healthy ecosystem once our activities are complete — whether that is boreal forest, native prairie or farmed land. Avoidance planning and mitigation actions preserve natural habitat and species, and our reclamation programs help establish native vegetation to promote biodiversity, wildlife habitat and a range of land uses.
Across our operations, land management practices are designed to reduce disturbance and progressively reclaim land. At our thermal operations, for example, we have decreased the size of our multi-well pads, and re-use existing roads and clearings of former sites to the extent it is possible. This reduces the area of trees cleared, soil disturbed, and habitat affected, avoiding additional vegetation and topsoil removal.
Biodiversity
Canadian Natural recognizes the importance of biodiversity to maintain the variety of species and ecosystems and their ecological processes in the areas we operate.
Our Environmental Management System (EMS) acts as a guide for us to assess biodiversity, implement mitigation measures and return the land to a diverse ecosystem, through the following practices:
incorporating biodiversity values into our development plans
mitigating project effects on biodiversity through avoidance and minimization of effects
reclaiming and restoring natural environments wherever possible
identifying key ecosystems, wildlife habitat and species in all aspects of project activities
working with governments, Indigenous Peoples and stakeholders
Wildlife
Proactive wildlife management is considered in all phases of our projects.
At Canadian Natural, proactive wildlife management is considered in all phases of our projects to help minimize impact on local wildlife from our operations and work to ensure our operations and activities comply with all regulations.
Our wildlife management activities include: pre-disturbance planning, wildlife surveys, minimizing impact on operational sites, and managing wildlife on retired assets. We implement low-impact measures to protect wildlife at our sites, including controlled site access, minimized vegetation and soil removal, wildlife crossing structures for above ground pipelines and effective reclamation. Additionally, we create enhanced habitats such as restoration of caribou ranges outside our operational areas, ensuring wildlife movement options are available.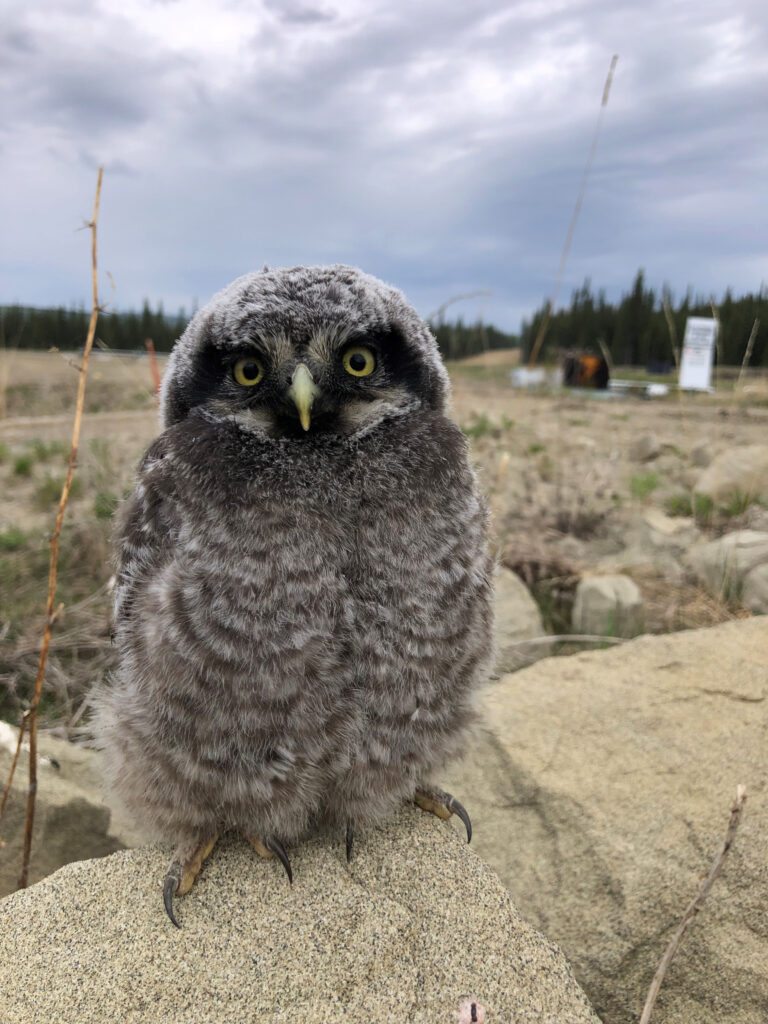 Minimizing disturbance to wildlife and their habitat helps ensure animal species continue to thrive and that effects to biodiversity are minimized in areas near our operations. This work also protects the safety of our employees and wildlife by reducing human-wildlife conflict.
Biodiversity and wildlife monitoring is an important component of effective conservation strategies both during development and reclamation project phases. Regular monitoring and research of wildlife, biodiversity and species at risk are incorporated into our management and mitigation programs to develop science-based best practices.
Highlights of our research and monitoring programs include:
wildlife movement studies — including moose, wolves, and caribou;
assessment of bird and wildlife colonization on reclaimed land;
studies of vegetation performance, including plant community development and establishment, and effective soil mix.
At our oil sands mining facilities, we have leading edge bird deterrent programs, conduct daily monitoring and continuously assess improvements in deterrent performance.
Another key aspect of our wildlife management activities is the implementation and sharing of best practices and traditional knowledge with industry peers and Indigenous communities, to minimize human/wildlife interactions. By working with First Nations to maintain trapping activities, and share traditional knowledge and experience in the oil sands region, we are able to further enhance our wildlife management practices on and around Canadian Natural worksites.
Case Studies
Reclamation
We understand that reclamation is progressive and take the necessary steps to ensure it is done right.
We adapt our reclamation approaches to different ecosystems, based on specific requirements for each type of area — to manage soil, vegetation and land forms. Our focus is on minimizing disturbance.
Our reclamation practices include both area-based and progressive reclamation approaches:
Area-based reclamation – We reduce our land footprint in our conventional/thermal operations by geographically grouping well and pipeline abandonments, facility decommissioning and reclamation activities. This drives innovation, accelerates reclamation timelines, and allows us to progressively reclaim large areas of land more efficiently and effectively.
Progressive reclamation – In our oil sands mining operations, we work with communities and industry to monitor and continuously improve practices. In addition to planting trees, we invest in the development of tailings management technologies to accelerate the pace of reclamation.
Closure plans are updated regularly to incorporate best practices, research results, and community and stakeholder input. Work is completed in accordance with applicable regulations for all sites as part of their liability closure. With a wide portfolio of projects and record numbers of reclamation projects, Canadian Natural is an industry leader for abandonment, decommissioning and reclamation activities in Canada and offshore UK.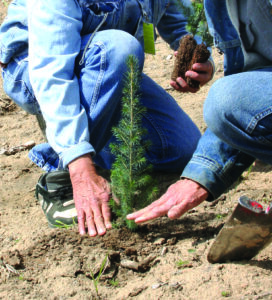 Research Collaboration
We support and participate in reclamation research through practical hands-on field trials and collaborations with industry, academia and government to optimize reclamation practices on oil and natural gas sites. We are currently engaged in a variety of partnerships to continuously improve our reclamation programs:
Research not only enhances our own reclamation efforts, but also those of the industry as a whole. Some of the industry projects led by Canadian Natural include:
Oil Sands Vegetation Cooperative (OSVC) – a collaborative effort to harvest and bank native boreal forest seeds for use in revegetation and research.
Genomics Enhanced Reclamation Index (GERI) Stockpile Project – this is helping us understand how soils may change while they are stockpiled. It helps determine the best approaches to manage soil during reclamation activities for both mining and in situ oil sands operations.
Developing an effective soil placement mix or 'recipe', using a combination of salvaged soil placed on reclaimed sites.
Working together effectively allows each company to study the successes and challenges of its peers, opening up the industry to the best ideas and approaches, and continuously improving upon them.
Case Studies
Primrose Flow to Surface
Canada has the world's third largest oil reserves and approximately 97 per cent of those oil reserves are located in Alberta's oil sands.
Canada's oil sands are found in three deposits; the Athabasca, Peace River, and Cold Lake areas in Alberta and part of Saskatchewan. The greatest quantity is found in the Athabasca deposit near Fort McMurray where the oil sands are closer to the surface than in other regions.
Bitumen from oil sands is recovered using two main methods: open-pit mining and thermal in situ. The method applied depends on how deep the reserves are deposited. When bitumen is too deep (>80m) to economically mine, wells are drilled and produced through in situ methods (where heat is injected to reduce the viscosity and allow the bitumen to be pumped to surface facilities). In Alberta, 80 per cent of oil sands reserves could be recovered using in situ methods.
Primrose and Wolf Lake In Situ
Primrose/Wolf Lake Oil Sands Project (PAW) is a thermal in situ operation located approximately 65 km north of Bonnyville and about 350 km northeast of Edmonton, primarily inside the Cold Lake Air Weapons Range. The approved project area covers 288 sections or 73,728 hectares.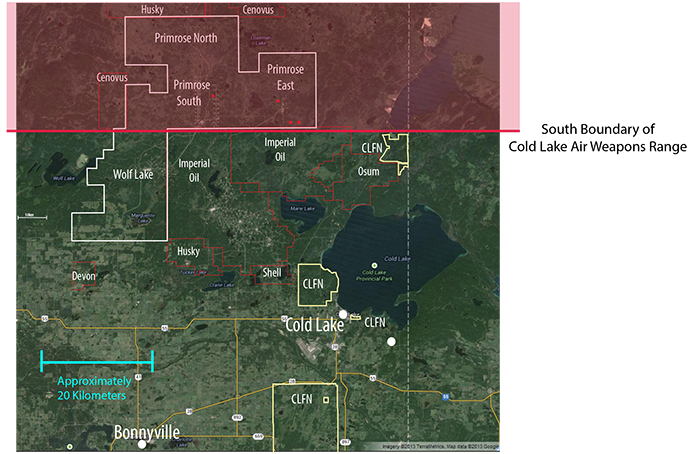 The majority of bitumen produced from the PAW area is from the Clearwater Formation.
The main process used to recover bitumen at PAW is cyclic steam stimulation (CSS) (shown below). CSS uses a single wellbore to inject steam and subsequently produce bitumen in the form of a water/bitumen emulsion. No chemicals are used.
Cyclic Steam Stimulation (CSS)
2013 Flow to Surface
In May and June of 2013, Canadian Natural discovered four locations with bitumen emulsion at surface within PAW. At one of the locations described as site 9-21, the flow to surface occurred below a small, unnamed water body. The other three sites, 2-22, 10-1, and 10-2 are terrestrial sites.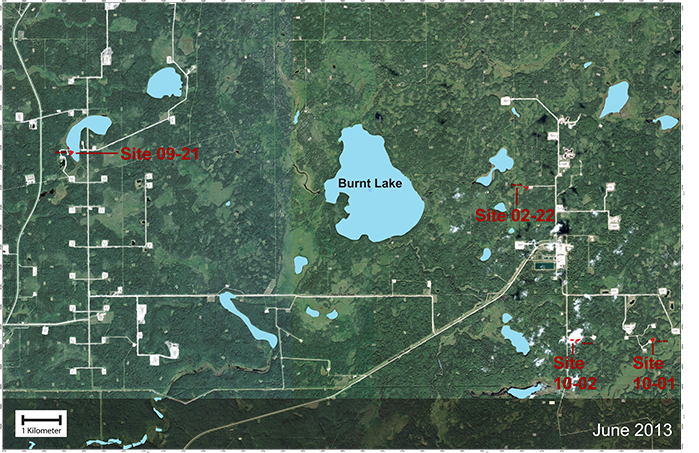 Canadian Natural has fully cleaned up the flow to surface sites and, on April 1, 2015, we submitted an extensive technical review into the cause of the flow to surface events to the Alberta Energy Regulator (AER). The AER released a final report on March 21, 2016 which is consistent with Canadian Natural's findings. More details about Canadian Natural's Final Report are available below.
As a result of extensive data gathering, investigation, analytical analysis and interpretation, Canadian Natural and the industry's understanding of cyclic steam processes has been enhanced. These learnings have been applied, and our operational practices and strategies have been modified to mitigate the risk of future seepages.
Previous updates about the incident and our response are detailed below.
Case Studies